The children characters in the JAG television series were every bit as professional as their adult counterparts and were usually more than mere "scene dressing." Many of them carried substantial plot significance and often had extensive speaking roles.
This scrapbook is divided into two sections: Major Cast and Supporting Cast. The Major Cast section is further divided into child actors playing the "childhood" of the major cast in "flashbacks"; and, those playing the children of the main characters on a recurring basis.
The Supporting Cast section is sub-divided into those children who appeared in more than one show, like Josh Pendry and Mikey Roberts, and those whose stories were for one television episode only.
Supporting Cast: Recurring



Michael Bellisario as Mikey Roberts
Brother of Bud and son of "Big" Bud Roberts who physically abused him. He excelled at the Naval Academy & became an
avid paintballer. Met and fell in love with Admiral Creswell's daughter Cammie.

Sean Murray as Danny Walden
The son of Admiral Chegwidden's Urologist friend Dr. Sydney Walden. Danny stole the Admirals car, was convicted of drug
dealing & sentenced to military duty. He was the deliberate cause of the admirals breakup with his mother.




Aysia Polk as Annie and Dar-Lin Lewis
Twin girls living with assorted relatives and abused by CPO Charlie Lynch. Dar-Lin escaped when they moved then lived in their
old house until H found her while he was searching for Annie's brutal killer (Lynch.)










Will Rothaar as Josh Pendry
Josh is the son of Harms deceased pilot friend and roommate, Jack Pendry, and Annie, who Harm had always secretly loved. Having lost his own father while still a child, Harm
identified with Josh. While dating Josh's mother, Harm took Josh on a "Tiger Cruise" without telling his mother. Harm hasn't seen him
since his mother got angry after the cruise. Josh played major roles in at least three episodes and had the most time "on screen" of all the child actors (except, perhaps Mikey).

Courtney Mun as Lilyana Escamilla
Girl who's mother worked in the US embassy and who Mac befriended during
an investigation. Tienna helped everyone escape from the embassy when it was
being stormed by insurgents and was injured. After the evacuation Mac flew
back to find her then gave
her a military medal.
Supporting Cast: Single show



Sam Gilfaldi as Marty Bauwer
Living with his mother and step father he was "watched over" by his mentally unstable, former SEAL, homeless father. He needed to testify at his fathers trial for killing convenience store robbers/killers to his protection despite still not being told who his father was.





Justin Garms as Trevor Anderson
13 year old boy with a "psychic link" to a childhood and marine buddy of his fathers who needed to be taken to his cabin in order to fulfill his fathers promise.

Un-credited as Jimmy Nevins (Barnes)
The son of IRA member Lorcan Barnes (the Ghost) and Lt Linda Nevins (daughter of Admiral Nevins of SINC-PAC). He was kidnapped by a rogue inspector for the Royal Ulster Constabulary as a pawn trying to draw out his father. He was rescued by Harm and Mac before being killed by the rogue Constabulary.


Un-credited as Brian Yarrow
The nephew of fugitive separatist militia member Toobin. He was killed when caught in a manipulated trap for his brother by a SEAL on training.


Un-credited as Sarabeth and Lisa Frankl
Children of gunnery sergeant Frankl who was charged by his wife with "fraternizing" with a female helicopter pilot Sandra Gilbert.

Sally Livingstone as Amy Yarrow
A niece of Toobin, a fugitive separatist. Her brother Brian was killed in a SEAL training exercise. She had to restrain her father from shooting Capt Rivers who he thought had killed her brother.

Cassandra Ray as Kim Douglas
The daughter of Lt. Cmdr. Murray Douglas a navy F14 Tomcat pilot who was kidnapped in order to blackmail her father into stealing a jet and shooting down an Arab leader.

Zach Bostrom as Walter Evans
Son of Sgt Maj Silers Evans killed in Afghanistan when Walter was only 13. He became obsessed with becoming a Marine, became sullen reclusive and lost friends. At 16 he ran away. "Amber alert" placed for him. Falsified papers and joined marines. A friend of his fathers (a General) called in JAG, awarded him an "Honorary Marine" certificate then ordered him home with his mother.



Un-credited as "Gar" Hochausen
The son of Capt Gary Hochausen, Harm's mentor, who falsified his vision tests in order to keep flying when he was getting presbyopia. He caused an accident which killed two civilians but wouldn't admit it. Harm had to trip him up with an altered eye chart on the stand.



Un-credited as Nabil
A middle eastern orphan who overheard the Sheik talk about blowing up a man who was later erroneously charged in the deaths of all the reservists from one town in Okalahoma except one. His information helped Mac capture the real terrorist.


Bobby Coleman as Donovan Pardee
The son of Cliff Pardee (the brother of a soldier killed in an explosion in Afghanistan along with all the reservists from an entire Oklahoma town.) His information helped Harm & Bud solve a case of arson.


Un-credited as Dugan Children
Children of marine Dugan who videotaped a recon mission where 3 US engineers working for SadDAM Hussain found dead from Sarin nerve gas. He kept a bootleg copy and his wife sold it to Norman Delaporte, a corrupt ZNN reporter, because she needed money.
Un-credited as Italian Children
Two children stealing money from a fountain in Italy. Chegwidden spoke to them in Italian explaining that stealing wishes will stunt their growths. When they didn't seem to believe him he asked, "why would I lie to you?" Chasing them away kept them from being in the middle of terrorist activities.

Un-credited as Baby "Mac"
Baby born to a screaming woman during a terrorist takeover of her hospital and delivered by Harm in between saving hostages & killing the terrorists. The baby didn't seem to like the name "Harmon Walter" the first names of those helping in delivery so Sara MacKenzie suggested "Mac" which he took to.


Un-credited as Sean Wetzl
Son of marine tank driver Daryl Wetzl and druggie mother Marie. When his mother got sole custody due to lack of evidence against her his father took him for a ride in a tank until Harm stood it down. Lives with Grandma Beatrice "Bea" Green because Harm found drug evidence and father in jail.


Troian Bellisario as Erin Terry
Daughter of the XO aboard the USS Stockdale where she was captured by terrorists who took over the ship during a "Tiger Cruise."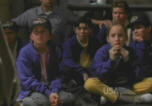 Un-credited as Members of Tiger Cruise
Members of the Tiger cruise aboard the USS Stockdale who were held hostage by terrorists trying to shoot Fidel Castro with a missile.


Un-credited as Dick and Brent Klee
Children of Jane Klee a sailor who MC Sullivan had sex with in exchange for favors. Then when she complained to Capt Ross she was offered a substantial promotion away from ship by Capt Ross (who Sullivan was also blackmailing).


Cadets at Iron Forge Naval Academy
Judd Trichter as Billy Tompkins, Joanna Canton as Luisa Vasquez & Brian Gross as Steve Corcoran, military school cadets "re-trying" a 10 year old murder case of Greg Riordan in their law class. The case about retribution for hazing was mirrored in cadets lives as Corcoran hazed Tompkins. Riordan shown to have been innocent.



Brian Vickers as Greg Riordan
Son of Kimberly Saunders and Greg Riordan, a gunners mate found guilty of 29 counts of 1st degree murder/suicide as "retribution" for the hazing given by Michael Saunders and others. A "retrial" in a military school moot court proved his innocence.

Antonia DeNardo as Arianna Restivo
The Italian daughter of a pilot who took her fathers homemade airplane without permission to practice and caused an F14 to take evasive maneuvers to avoid hitting her and in so doing collided with a helicopter killing six.


Caitlin Meyer & McKay Giller as Children of Commander Phil Zuzello
The Zuzello children who said goodbye to their father being taken off life support due to severe brain damage from hypoxia. It was inflicted at the hand of his pilot friend Sam Albrecht whom he had discovered to have vertigo which would end his flying career if it was revealed.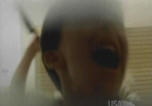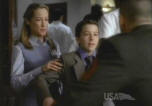 Bobby Edner as Tommy Akers
Son of GSgt. Akers who shot and killed his drunken mother after she slashed him with a butcher knife when he asked her not to drink. His marine father staged events to look like he had killed her instead of the boy so Tommy wouldn't go through life thinking he killed his mother. He was court-martialed for doing so & Tommy nearly lost his father too.


Aymara de Llano as Reynalda Montilla
Cuban girl found adrift off coast of Cuba and rescued. Harm needed to intervene with the captain of the ship who was determined to take her to US and met with Castro in the process.

Un-credited as young Peter Waller (in photo)
The stepson of Cdr Amanda Waller, captain of USS Gillcrest, who became angry and alienated after his father died and eventually became a serial killer stalking the journey of his stepmothers ship.

Un-credited as Iraqui boy
Iraqi boy who acted as a stool pigeon and directed insurgents to a military patrol. The firefight left senior DOD advisor Dwight Kanin dead and a marine court-martialed for "letting" it happen.


Un-credited as Abused boy
A boy whose abusive father was beaten up by an ex-sailor when he was caught hitting the boy. After watching the ex-sailor save him from the beating he asked "why did you hit my dad?"


Un-credited as Gym
Harms first "love." The 16 year old daughter of a woman friend of Stryker who Harm met when he ran away to look for his father in Vietnam. She and her mother were killed during their trip into Laos.

as Victor Loveless
A scout who was a witness for Bud's case against a master chief charged with "conduct unbecoming" when he swore like a banshee in front of his scout troop.


Un-credited as Rick Stoechler children
The children of Rick Stoechler, a cryptanalyst who was assassinated in a secure vault by Chinese who were protecting their informant. Webb set Stoechler up as a traitor to protect his dis-information program but Harm broke the case open.

Ashley Drane as Lisa Rossbach
The goddaughter of Admiral Chegwidden who ran away from her aunts where she was staying while her mother, Merrill, a ship's captain, was deployed. She came to stay with Chegwidden and was rude and abusive when she didn't get her own way.